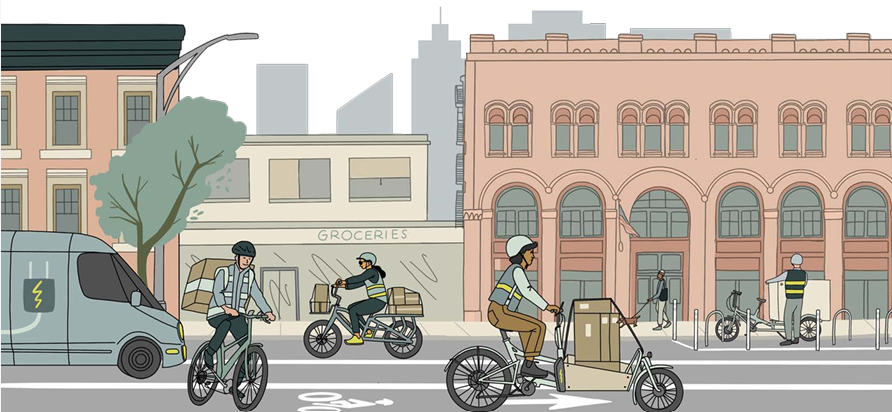 New White Paper Outlines Path to Prepare for E-Cargo Bikes in North American Cities
October 26, 2023 //
The Urban Freight Lab announces the release of a new white paper, Biking the Goods: How North American Cities Can Prepare for and Promote Large-Scale Adoption of E-Cargo Bikes. Produced in collaboration with leading bike industry brands, city stakeholders, and trade association PeopleForBikes, this research explores electric cargo (e-cargo) bikes, including their diverse applications, the challenges and opportunities they present for widespread adoption, and strategies to improve their accessibility and safety in cities.
Key Highlights from the White Paper:
In comparison to conventional ICE delivery vans, e-cargo bikes exhibit greater agility, lower emissions, quicker navigation through urban areas, and a reduction of 12% of the social and environmental costs.
A detailed definition of cargo bikes and insights into the features of six different models, including their measurements, payload capacities, and components.
Five unique use cases for e-cargo bike deployment beyond typical goods delivery.
A comprehensive comparison of performance between cargo e-bikes and delivery vans, including aspects such as time spent driving and parking, median dwell time, deliveries per stop, average walking distance, median speed, and a breakdown of time spent driving on different parts of the roadway (the travel lane, bike lane, and sidewalk).
21 actionable steps under four key themes: infrastructure, policy and regulation, incentives, and culture and education.
A toolkit of strategies to assist cities in promoting the adoption of e-cargo bikes.
The paper describes five different cargo e-bike use cases:
Grocery delivery, as shown by Cornucopia Logistics and Net-Zero Logistics in Manhattan.
University campus logistics operations such as food catering, mail and parcel delivery, utility maintenance, and garbage collection by UW Mailing Services in Seattle.
Last-mile and only-mile B2B deliveries of food, groceries, beverages, and office supplies. conducted by B-Line in Portland, Oregon.
Service trips for maintenance, repair, cleaning, and medical services, managed by Downtown Seattle Association in Seattle.
Goods delivery for community and nonprofit organizations, as shown by the Seattle Pedaling Relief Project in Seattle, Washington.
This paper was supported by multiple bike industry brands, freight logistics companies, and municipalities: Bosch eBike Systems, Fleet Cycles, Gazelle USA, Michelin North America, Inc., Net Zero Logistics, the Seattle Department of Transportation, and Urban Arrow.
"We are at a pivotal time in determining the role of cargo e-bikes in future urban logistics systems," said Giacomo Dalla Chiara, post-doctoral scholar for the Urban Freight Lab and lead author. "Cargo e-bikes offer an opportunity for North American cities to reduce freight emissions and improve road safety, but economic, legal, and infrastructural barriers have slowed their adoption. As a collaborative cross-sector research hub, the Urban Freight Lab is pleased to partner with leading bicycle industry brands and public stakeholders to develop a roadmap for U.S. cities to overcome obstacles and pave the way for the widespread adoption of cargo e-bikes."
"With improved infrastructure positioned as a key part of transportation and safety solutions, we look forward to working with cities nationwide to implement the recommendations shared in this paper." said Jenn Dice, president and CEO of PeopleForBikes, the trade association for the U.S. bicycle industry.
Quotes from Industry Stakeholders:
Mark Danhof, General Manager, Urban Arrow North America: "This research will help normalize e-cargo bike use, reshape last-mile delivery, and bolster the rate of adoption in the US. We already see how these bikes are transforming European cities and we are excited to see this change and the implications for sustainability in American cities. Kudos to UW's Urban Freight Lab on this important work."
Mark Chiusano, Cornucopia Logistics and Net-Zero Logistics: "As a delivery company with more than 200 e-cargo bikes operating in NYC and Boston, we are extremely optimistic about what the future holds for urban logistics. We jumped right onboard when the opportunity was presented to support the teams at the Urban Freight Lab and People for Bikes with this white paper. These are two amazing groups working together to ensure a better future for us all."
Michael Basarich, Co Founder & President, Fleet Cycles, Inc. "Fleet Cycles enthusiastically supports the work of the University of Washington's Urban Freight Lab and their recommendations contained within the Bike the Goods research paper. We are cargo bike people, in business and in life, and believe in their ability to change communities, businesses, and our planet for the better. This requires more awareness and standardization, which will ultimately lead to greater adoption of e-cargo bikes in North America. And we believe this research brings us closer to that reality."
Chris Novak, Urban Mobility Business Segment Manager, Michelin North America, Inc.: "Our continuing partnership with the Urban Freight Lab is an important collaboration to bring advancements to the last-mile delivery industry and continue to fulfill Michelin's promise to lead the way in sustainable mobility."